Hipotekarna Bank joins the Central Bank initiative "A Savings Week"
On the occasion of 31 October, the world day of savings, Hipotekarna Bank will join the "A Savings Week", the initiative of the Central Bank of Montenegro which is organized this year under the slogan "The first step towards a safe future".
Under this initiative, every child born in the Savings Week, from 31 October until 6 November, whose parents open a savings book with a commercial bank, will be awarded 200 euros by the Central Bank.
"All parents who decide to get a savings book with Hipotekarna Bank will get an additional 200 euros on top of the 200 euros awarded by the Central Bank. The 400 euros will be deposited for one year, following which parents can withdraw the money or extend the term deposit", said Nikola Spadijer, director of the retail sector. The interest rate for child term savings deposits with Hipotekarna Bank is 3.5% for amounts up to 30,000.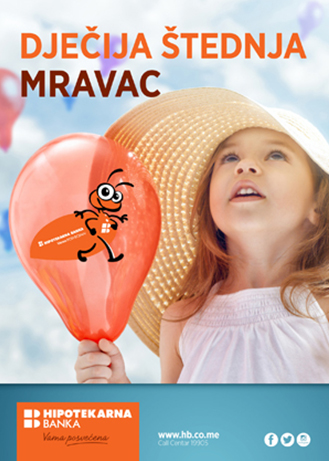 The offer of Hipotekarna Bank also includes Mravac, a child savings scheme, which is based on multiple deposits into the savings account for the duration of the term, i.e. cumulative savings, and can be opened for children up to 18 years of age. The advantages of Mravac child savings is flexibility in the deposit dynamics, possibility to schedule payments through a permanent payment order, free of charge, tied to a current or giro account. This means that the client need not come to the Bank if they want to extend the term of the accrued savings, which makes it ideal savings for investment into the future of your child. Together with the savings book, every child gets a Mravac piggy bank.