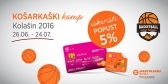 (26.06. -24.07.)
The International Basketball Camp Kolasin 2016 invites all boys and girls aged 9-17 to the Camp organized by our famous basketball players Vlado Scepanovic, Nikola Pekovic i Savo Djikanovic.


Basketball Camp Kolasin 2016 promoters are our famous basketball players Nikola Pekovic, Nikola Vucevic, Sasa Pavlovic, Bojan Dubljevic, Nemanja Radovic and a lot more famous names.


This year, parents and children may select from the following three types of accommodation:
| | |
| --- | --- |
| Mini hotels | 250 EUR |
| Hotel Lipka | 320 EUR |
| Hotel Bianca resort | 370 EUR |
Lump sum payments are subject to a 5% discount, available to Premium card holders.
Option to pay in 6 monthly installments.
No discounts apply to installment payments.


The Basketball Camp is organized in 4 shifts, 7 days each:
| | |
| --- | --- |
| I SHIFT: | 25.06.2016 - 03.07.2016 |
| II SHIFT: | 03.07.2016 - 10.07.2016 |
| III SHIFT: | 10.07.2016 - 17.07.2016 |
| IV SHIFT: | 17.07.2016 - 24.07.2016 |
Information:
cellphone.: + 382 67 032 132
email adresa
www.basketcamp.me