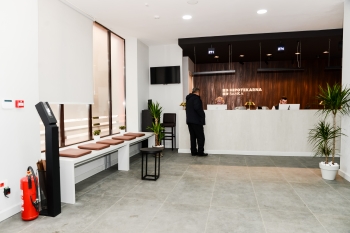 Donation of a capnograph monitor to the General Hospital in Bijelo Polje
Hipotekarna Banka has continuously invested in the latest banking services and business network, as well as in the improvement of its relationships with the population and businesses. To this end, and due to an increased scope of work, a renovated, modern branch office was opened in Bijelo Polje, which will provide quality banking services to the clients in a comfortable and modern environment.
"Today's banking activities are characterised by the use of modern technologies, and Hipotekarna Banka has been the leader in the Montenegrin market when it comes to technology. However, personal contact with clients is an irreplaceable link in the establishing and keeping of good client relations", said Mirsad Spahić, director of the Hipotekarna Banka branch office in Bijelo Polje. The renovated, spacious and modern premises in Bijelo Polje, tailored to the clients' needs, will enable Hipotekarna Banka to provide higher quality and better accessibility of services to the clients. "Our dedication to the clients and the respect for their needs have resulted in a loyal base of more than 10,000 clients. The increased scope of activities imposed the need to improve the existing business facilities. These modern and up-to-date premises, covering 120 m2, have been equipped with the latest queue management system, Wi-Fi zone and efficient services which provide clients with an absolute sense of comfort", Spahić stated. At the opening event, Hipotekarna Banka announced the donation to the General Hospital in Bijelo Polje. In order to help with the urgent situation, the bank will donate a capnograph monitor to the Anaesthetics Department and the Surgery Block. The renovated branch office in Bijelo Polje is a continuation of Hipotekarna Banka's efforts to upgrade branches across Montenegro. During last year, the branch offices in Berane, Herceg Novi, Budva and Nikšić received an overhaul and their functionality was increased, whereas a modern branch office was also opened in the Delta City shopping mall.