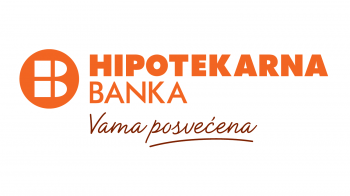 The Central Bank of Montenegro published the results of the business activities of banks in Montenegro at the end of the third quarter.
Hipotekarna Banka continued to grow since the previous period, meaning that it is still the second-biggest bank in Montenegro in terms of total assets and total deposits. The total balance sheet assets of Hipotekarna Banka, as of 30 September 2018, amount to EUR 528.4 million, which is 10% higher compared to the same period last year. The total bank deposits as of 30 September 2018 amount to EUR 430 million, which is a 16.3% increase compared to 30 September 2017. This demonstrates the high level of confidence that the citizens and companies have in the business activities of Hipotekarna Banka. The profit of Hipotekarna Banka at the end of the third quarter of 2018 amounts to EUR 5.17 million, which is almost 50% higher compared to the same period in 2017.
In 2018, Hipotekarna Banka continued to grow and modernise its business network. A new branch office was opened in the Delta City shopping mall in Podgorica, whereas branches in Herceg Novi, Budva, Berane, Nikšić and Bijelo Polje have been renovated. All branches were renovated in line with the latest concept which allows our clients to quickly and efficiently realise all of their transactions with the bank.
In 2018, the trend of investing in new technologies and in activities beneficial to the society continued. During the previous month, together with Mastercard, we donated more than 70 POS terminals to the Ministry of Interior, which will allow a streamlined payment of traffic fines inside the vehicles of the Ministry of Interior. Last week, we launched the latest banking app for payments via mobile phones, entitled Moj Novčanik, which was met with great interest from the existing and future clients.
The good business results and a clear development strategy, which is in accordance with the vision of the development of the banking sector worldwide, resulted in an increased interest of investors in purchasing shares of Hipotekarna Banka, and in the expanding of the Hipotekarna Banka's activities to the countries in the region. We believe this to be an acknowledgement of the success of Hipotekarna Banka's business activities and proof that the banking sector in Montenegro is attractive for foreign investors. Owners and management of Hipotekarna Banka will consider all of the requests with great care, while focusing on the continuation of the development strategy of Hipotekarna Banka, as a secure and modern financial institution, with respect for all of the regulatory requirements made by the Central Bank of Montenegro.
Our clients and the Montenegrin public will be timely informed about all of our activities.