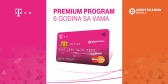 Crnogorski Telekom and Hipotekarna bank celebrated 6 years of Premium Programme.
Premium MasterCard – most popular payment card in Montenegro
Details have been revealed about new Premium card offer
Crnogorski Telekom and Hipotekarna bank have celebrated yesterday 6 year anniversary of their co-projected Premium programme, at the event which was open for their business partners as well as media representatives.
Cooperation on Premium programme began in 2011 when Crnogorski Telekom and Hipotekarna bank launched their first co-brand benefit Premium card, a product which is exclusively reserved for Telekom users. Premium programme is now a network of over 440 partners with over 21000 users of Premium MasterCard. These contactless (pay-pass) payment cards have an attractive payment benefits with 30 percent discount and/or deferred payment arrangement in over 1600 stores.
Premium card usage makes 30 percent of total Master card usage of domestic origin, which makes it the most popular payment card in the country.
Pointing to the success of the Premium programme, Ana Golubović, head of corporate clients department in Hipotekarna bank, has highlighted: '' The use of Premium cards have increased for over 40 percent compared to the same period last year, and the number of transactions have increased for over 56 percent." We are proud of the fact that cooperation between our bank and Crnogorski Telekom has produced manifold benefits for our clients, and of the fact that they recognize our partnership as a fruitful one, client oriented, offering the best products and services on the Montenegrin market''. All of Premium programme customers know that 30 percent discount and deferred payment option in over 1600 stores are not the only reasons for using this card, the fact that they could rely on our support in any moment and the continuous upgrade of the product are additional reasons for their loyalty'' said Mrs. Golubović.
Expressing his content for their successfully cooperation with Hipotekarna bank, and their Premium programme partners, Dušan Banović, the head of domestic clients department in Crnogorski Telekom has underlined: '' The satisfied clients, whose number is increasing daily, are our best marketing and indicator of success of this programme. We are happy to know that this programme is still developing and its Premium card is number one payment card in Montenegro. Together with Hipotekarna bank we have created one of the most recognizable brands in Montenegro, which connects numerous partners, which makes this programme still successful today. Convinced of future success of Premium programme we will continue to invest in research and development, in order to offer the best possible service to our clients.''
Premium programme has intrigued additional public interest after introduction of its mobile application- Premium programme 2015, which enables its users to have direct access to their bank account linked to Premium payment card.
In addition to this basic feature, this service includes: sending money to another person's account, bills payment, transaction monitoring and checking account balance without walking into a bank, this service is available round the clock 24 hours every day of the week.
The partners have revealed details about their new product- Premium Gift card, which will soon be presented to the public.

Chronology / Additional info
2011. Crnogorski Telekom and Hipotekarna Bank launched their first co-brand benefit Premium card, offered exclusively to Telekom clients.
2013. Premium became a member of MasterCard family – first PayPass contactless payment card in Montenegro.
2014. HB Premium application has been launched (enables its users to search for stores where they can get their Premium cards discounts)
2014. First Premium Master Card pay-pass sticker.
2015. Mobile application Premium programme has been introduced.