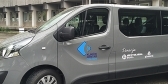 PRESS RELEASE
Hipotekarna Bank and Glosarij company have donated a car to ensure hemodialysis patients have an easier access to lifesaving care
Clinical Centre was donated a new ambulance worth €22,580
As the companies engaged in corporate social responsibility, Hipotekarna Bank and Glosarij company have donated an ambulance for the transport of hemodialysis patients to the Clinical Centre of Montenegro. The total value of the ambulance is €22,580. Hipotekarna Bank has donated a half of the amount required for the procurement of the vehicle, and Glosarij company has topped up to the full amount.
On behalf of the donor of this valuable donation, the attendees were addressed by Hipotekarna Bank CEO Esad Zaimovic, who emphasized that Hipotekarna Bank would continue contributing to the development of the society through monetary donations that it makes but also through numerous corporate responsibility initiatives that it takes part in or initiates itself: "Hipotekarna Bank attaches special importance to citizens and improvement of health care. This is part of our continued efforts through planned initiatives in the areas of health care, culture, education and care for the elderly. Through these, we show our commitment to our citizens and clients. Last year, we assisted in procuring a reanimation ambulance for the Podgorica Emergency Department, and there are many more corporate responsibility initiatives that we took part in that Hipotekarna Bank staff and our clients are proud of. I believe other companies will follow suit because together, both as individuals and companies, we can do a lot for the society."
As the first privately-owned wholesale drug company in Montenegro and as a company known for its professional attitude to its clients and to quality, innovation and ethics in business, Glosarij has been recognized across the region as a reliable partner and one of the most successful companies. They share their business success with the community that they operate in, while at the same time they provide support, mainly through their basic business activity, to the development of Montenegro's health care system. They always stand ready to develop partnerships with other companies that are able and eager to contribute to making further improvements in the health care of Montenegro, thus showing again their commitment to socially responsible business operations.
The ambulance will be used by the Hemodialysis Centre of the Clinical Centre of Montenegro.
Dr. Ranko Lazović, Director of the Clinical Centre of Montenegro, said: "We wish to thank Hipotekarna Bank and Glosarij for their donation of a vehicle that is indispensable in our daily work. Proper functioning of the Clinical Centre relies heavily on its fleet, which is why this donation is so significant. The vehicle used so far for the transportation of our hemodialysis patients to our clinic is fully depreciated, and a new vehicle was urgently needed"
The vehicle procured through this project is a dark grey Opel Vivaro 1.6D MT6 8+1 ambulance van, a donation to the Hemodialysis Centre.