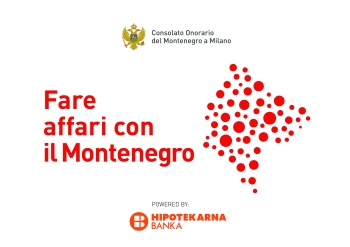 On Tuesday, 9 October, 11 am, at the Four Seasons Hotel Milan, Hipotekarna Bank and the Honorary Consulate of Montenegro in Milan are organising the panel discussion "Fare affari con il Montenegro" ("Doing Business with Montenegro") and the promotion of the book of the same title, written by the honorary consul of Montenegro to Milan, Dolly Predović.
The event will be attended by more than 250 respectable entrepreneurs, the rector of Bocconi University, representatives of the political and diplomatic spheres, as well as our football stars, Dejan Savićević and Mirko Vučinić.


"Fare affari con il Montenegro" is a guidebook of sorts, which collects data and statistical information, as well as stories of entrepreneurs and politicians, given as interviews at the end of the book, which provide first-hand information on the experiences of people who did business with Montenegro and about those who create political systems in order to make the economy even more dynamic.


The panel discussion will be moderated by the experienced and renowned journalist, Sergio Luciano, whereas the panellists will include Nikola Špadijer, Executive Director of Hipotekarna Bank and Vice President of Confindustria Montenegro, Petar Ivanović, Member of Parliament of Montenegro, Erich Cossutta, President of Confindustria Montenegro, and Armand Arton, President of Arton Capital.


The objective of the publication "Fare affari con il Montenegro" is to serve as a useful means to provide practical information about the access to opportunities which Montenegro can offer and wishes to offer to Italian entrepreneurs, being not only a guide to the types of companies, incentives and business zones, but also presenting three very interesting case studies: Portonovi, Porto Montenegro and Luštica Bay.


This event is an important opportunity for interaction between Italian entrepreneurs and some of the principal actors in Montenegrin economic growth, and for introduction with business opportunities in Montenegro.


Hipotekarna Bank will be broadcasting the event live on its Facebook channel.