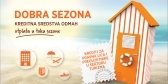 Hipotekarna Bank has prepared this year again a loan product intended to improve the tourist offer. The Good Season loan is intended for legal entities and entrepreneurs in tourism. With the needs of tourist economy in mind, the Bank is offering a repayment period of up to 5 years. A particularly favourable term is the seasonality of repayment where during the three months of the tourist season one pays the principal and interest, while in the remaining months only the interest is paid back. The loan can also be repaid in equal monthly installments, either on a quarterly basis or as a lump sum.
Good Season loans are intended for:
construction, decoration, adaptation, reconstruction and extension works, refurbishment of rooms, second homes, hospitality facitilities, etc.
purchase of vessels and related eqipment for rental purposes, and
refinancing other existing tourist loans.
Hipotekarna Bank will contiue supporting its clients in developing their business and assisting towards as a good a tourist season as possible.
For more information, click HERE.