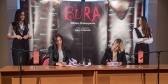 Representatives of Hipotekarna Bank and Montenegro National Theatre signed a general sponsorship agreement today at the Montenegro National Theatre. The agreeement was signed by Ana Ristic, Hipotekarna Bank Marketing Director, and Zorana Kralj, Director of the Montenegro National Theatre.
All Hipotekarna Bank clients holding a Premium Card will soon be able to enjoy a 10% discount on theatre tickets.
"What better way to contragulate and jointly celebrate the Day of the Montenegro National Theatre. It was with great pleasure that Hipotekarna Bank accepted the role of a patron given the need and strategy of the most important cultural institution to create quality cultural content for the audience. Committment to the development of culture and theatre magic is an imperative of corporate responsibility of our bank, but also a way to show respect for the needs of citizens and our clients for culture content. We are happy to see the theatre has set on a new path towards successes in the future with the premiere of the "Tempest" together with its reliable and loyal friend - Hipotekarna Bank" - said Ana Ristic, Hipotekarna Bank Marketing Director.
In her address Zorana Kralj said: "I am overwhelmed with our partnership with Hipotekarna Bank, which serves as the best possible model for a relationship of the profit sector with art institutions. This kind of support is invaluable to us and will help us carry out some of the very important programme activities that are quite challending to us financially, yet crucial for us if we are to fully accomplish our mission. I hope this kind of corporate responsibility which is ingrained in Hipotekarna Bank business will be a good model to be followed by other actors in the business sector, a model showing how interests can be identified also in culture and art, not just in what are typical recepients, such as sports and commerce. I am sure cooperation with the Montenegro National Theatre, the key institution of culture in the country, will contribute further to Hipotekarna Bank positivie image, and that together we will improve the scope and quality of art production."
The signing of the agreement was celebrated as part of the event organised on the occasion of the Day of the Montenegro National Theatre.