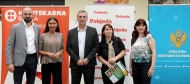 An initiative titled "Begin your School Year with Pobjeda Daily", jointly implemented by Hipotekarna Bank and the Ministry of Education, under the auspices of the Institute for Textbooks and Teaching Aids (ZUNS), ended yesterday with an award ceremony for one hundred textbook gift sets for primary school.


The prize contest started on August 1 with Pobjeda Daily rewarding in each round 25 loyal readers who had filled out their collection sheets with coupons.
Tamara Braunovic, the Podgorica branch office director, pointed out that Hipotekarna Bank is always proud to take part in humanitarian and socially responsible projects and wished all primary schoolers a lot of success in the new school year.