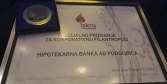 Hipotekarna Bank AD Podgorica is the "Iskra" award winner for corporate philantropy. This significant award was handed at the "Zetski Dom" Royal Theatre, Cetinje. The jury and FAKT organisation, which founded the award, together with the Diaspora Directorate and the Chamber of Commerce, with the support of the EU Deletation to Montenegro and "Cano Koprivica" Foundation, "Rockefeller Brothers", and "Charles StewartMot" recognised the contribution and significance of Hipotekarna Bank corporate responsibility that is manfisted in serveral ways: through its investment in the development of health care, investment in culture, elderly care, investment in youth education, and its overall contribution to the community.
The jury sets out in its explanatory report that continuity and consistency of such activities have already lead to visible and recognizable results. Receiving "Iskra", the chief executive officer emphasized the Bank's business philosophy WORK WELL AND DO GOOD, as well as its committment to its clients and Montenegrin society.
"It is my great pleasure to be able, on behalf of Bank's owners and management, to receive this important award. Over the past ten years, a very important segment of our business has been corporate philanthropy and consequently, a significant portion of the budget has been invested to assist the society we live and work in. It is a special honour to be receiving this award in Cetinje because it is here, in the royal capital, where Miljan Todorovic, the Hipotekarna Bank's owner, was born, who feels this is one of the most beautiful awards that the Bank could receive", said Mr Zaimovic and promised, on behalf of all the Hipotekarna Bank employees and shareholders, that Hipotekarna Bank will continue being a reliable and responsible partner to its clients and citizens of Montenegro in the future as well.