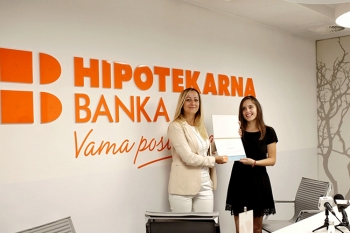 Hipotekarna bank made a donation of EUR 20.300 to Nina Bošković to cover her tuition fees for her studies at Oxford University.

Hipotekarna bank has decided to help student Nina Bošković pay her tution fees at Oxford University with EUR 20.300 (the amount she was missing to start her studies )

Nina Bošković has been accepted to, officially, the most renown world University, for her Master Studies in Clinical Embriology (Msc Clinical Embriology) and in order to continue her studies she needed 43.000 EUR . The Ministry of Education and other institutions and donators have provided a part of the funds, but Hipotekarna bank has donated the missing 20.300 EUR.
This worthy donation has officially be given by Hipotekarna Bank's head of marketing Ms Ana Ristić, who reminded that Hipotekarna bank organized a conference ,, Live locally, learn globally'' at the begining of this year with the aim of promoting investment in knowledge, and this donation proves that this institution is actually investing in knowledge and education, which is best shown by its actions.

"Hipotekarna bank is making an effort to recognize true values . Nina is a perfect example of how a true value finds its right place. The best student of Faculty for Maths and Science , has been accepted to Oxford University and now can dedicate her time to diligent study. We believe she will continue to be the best and that she will be able to apply the knowledge about clinical embriology acquired at Oxford in Montenegro", said the head of Marketing of Hipotekarna bank, adding that this is a gift from all Hipotekarna bank's clients and employees.

"I am very happy. Hipotekarna bank proves with this act that they are really socially responsible corporation. I believe all the clients must be proud to be a part of such an institution which helps others. I will do my best to repay this donation and trust with my diligent study and acquire knowledge which I would hopefully be able to apply here in Montenegro", Nina Bošković has said.