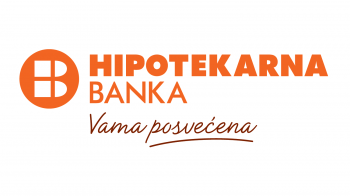 Hipotekarna Banka's new service
MojPOS App – Your phone, a POS terminal
Practical, simple and safe contactless payments – any time, any place
Hipotekarna Banka, being the leader in banking innovations in the Montenegrin market, closely follows international trends, and is among the first in Montenegro and the region to offer their clients a mobile app that allows business entities, companies and entrepreneurs to turn their mobile phones into POS terminals (terminals for payments via payment cards and mobile wallets).
This innovative solution is intended to improve the commercial activities of business entities – small and medium-sized enterprises and registered entrepreneurs, regardless of their registered activity. The app is simple to use, requires no additional devices apart from the one you already own – your Android device, mobile phone or tablet. What makes this app unique is the fact that it was developed together with the companies Mastercard and Visa.
"MojPOS is an Android app that allows for the receiving of payments by card or mobile wallet, any time, any place. This app will improve the conducting of business and increase sales for commercial entities and entrepreneurs, since payments have never been easer, quicker or safer. This is another step towards digital transformation, and in the coming period, beneficiaries can expect more innovative and advanced services from Hipotekarna Banka, for the benefit and satisfaction of all", said Ana Golubović, member of the Hipotekarna Banka Management Board.
The app is intended for easy use by the entrepreneurs providing services we all need, such as plumbers, electricians, hairdressers etc., which we are used to paying for in cash. This new digital solution for contactless payments with payment cards and phones will improve the business operations in the economy and allow for the increase of income, making life easier for the citizens.
The MojPOS app is simple to use. It is enough to have an Android device and apply at the Hipotekarna Banka website. Our clients who apply for the MojPOS service will not have to pay the monthly fee during the first 6 months of the app's usage.
Everything that a client requires to download the app is WI-FI access, a mobile Android device v 5.0 or newer, NFC functionality and access to Google Play Store.
"Mastercard is dedicated to reducing the number of technological and payment obstacles, while focusing on financial inclusion and the business development for entrepreneurs of all sizes. The business activities of small enterprises include many low-value transactions (a bouquet in a flower shop, a taxi ride, or a kilogram of fruit at the market), and seeing that they often operate in specific locations such as open-air markets or even on the go, as do taxi drivers and courier services, a POS terminal is often impractical for them. That is why we are pleased to enable, in cooperation and partnership with Hipotekarna Banka, which implemented the advanced Mastercard Tap on the Phone technology, all entrepreneurs and legal entities in Montenegro to receive payment cards in an equally simple, safe and practical way, just like with POS device payments, with minimum expenditures, and a guaranteed growth of payment transactions", stated Jelena Ristić, Mastercard Country Manager Serbia, Bosnia and Herzegovina, Montenegro.

"Visa aims to make digital payments accessible to everyone. We are pleased to be bringing innovative technologies to encourage the growth of cashless economy in Montenegro, together with our partner, Hipotekarna Banka. Even though the traditional POS terminals are widely used, with this we are continuing to expand the offer of tools for the receiving of cashless payments. The "MojPOS" solution, which simply transforms Android smartphones with NFC support into POS terminals, allows companies to increase the number of points of sale that accept this type of payment. The app will also improve the business operations of micro and small enterprises, which are beginning to accept digital payments and offer new services to their clients. We believe that Visa's technology and global expertise in this field can strengthen local economies and contribute to the further development of a cashless society in the region", stated Vladimir Đorđević, Visa General Manager, South East Europe.
MojPOS is free to use during the first 6 months and the digital slip (bill) may be sent to an e-mail address or by SMS/Viber/Whatsapp.
The request for installation may be submitted online. Namely, the application form should be downloaded, filled in and then sent to email adresa.