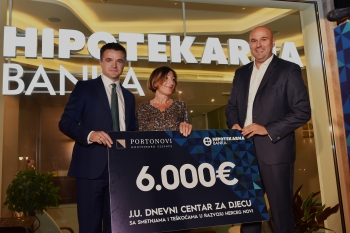 Hipotekarna Bank opened the doors of its specially designed branch office in Portonovi
The new co-brand Portonovi Visa Infinite card has been launched - the first on the market of Montenegro
Donation to Public Institution Day Care Centre for Children with Disabilities and Developmental Difficulties in Herceg Novi
Hipotekarna bank of Montenegro has opened a new, exclusive branch office in Portonovi's and on that occasion, in cooperation with Visa, launched the Portonovi Visa Infinite card.
Opening the branch office, the CEO of Hipotekarna bank for Retail Banking and Advanced Sales Channels, Nikola Spadijer, emphasized that a unique and exclusive resort, such as Portonovi, inspired the Hipotekarna bank to offer residents and everyone who visits it the best service in the area. The interior is fully adapted to the standards of this luxury complex.
" Hipotekarna bank is known for its commitment to clients and by opening of this new, modern branch office we would like to contribute to the exclusivity of this new Montenegrin tourist pearl. On this occasion, we launched Portonovi Visa Infinite card, which is primarily intended for residents of this resort. We are pleased to be able to offer our clients the best banking service and services here. By combining state-of-the-art but also traditional banking products, Hipotekarna bank will continue to strive to adapt the products to the current market demands and customer needs, "said Spader.
In addition to the many benefits and discounts available at Portonovi Resorts, Portonovi Visa Infinite card offers the convenience of staying in over 1,000 VIP lounges at airports in more than 450 cities around the world with 6 free entries per year, constant travel assistance (24/7) and healthcare, special deals on luxury hotels, as well as 12 percent discounts and benefits in more than 985 thousand hotels worldwide.
With this card, if you pay for traveling abroad, the International Medical & Travel Assistance Service program guarantees you and your immediate family up to 90 days, with additional flight and baggage delay insurance.
Portonovi Visa Infinite cardholders have a discount of up to 25% on priority services at airports around the world, and when purchasing a Visa Infinite card, they also acquire the right to protect the purchased item from loss, theft and damage.
Also, the users of this card, which is primarily intended for residents of Porton Resorts, also have a Visa Concierge service 24 hours a day, every day of the year - wherever they are.
This means that at any time, at home and abroad, they have individual help with a wide range of business and private services, such as booking travel or rent-a-car services, finding tickets to events, buying and delivering gifts, making reservations places in the royal lodge in the tennis tournament!
More informations about Portonovi Visa Infinite card are available at Hipotekarna bank Portonovi branch office and at www.hbvisainfinite.me.
"With more than six decades in the market, Visa has great expertise in working with different consumer segments. Every Visa Infinite card is a unique product which blends together the superiority of the world-class brand, state-of-the-art technology and broad range of privileges to meet the demands of the affluent consumers. We are happy to partner with Hipotekarna bank to offer new product to the market to better serve our cardholders in Montenegro," said Srdjan Dakic. Business Development Leader, South East Europe, Visa CEMEA.
"While we were developing the Portonovi Resort, we wanted to provide our visitors with the best experience and the finest service in the Resort. We chose our partners carefully and we are happy to have the leader in innovative services, Hipotekarna Banka, with us. The Portonovi Visa Infinite Card proves the dedication of our two brands to the creation of products which allow clients to enjoy the best possible service which guarantees quality and many benefits", said Stevan Milić, General Manager of Portonovi Resort.
We are proud to announce that Azmont Investments and Hipotekarna Banka have allocated funds in the amount of EUR 6,000 for the Public Institution Day Care Centre for Children with Disabilities and Developmental Difficulties in Herceg Novi. The donation is intended for the procurement of didactic teaching aids, didactic toys and sports equipment needed in this centre's work and play area frequented by children and the young with disabilities and developmental difficulties.