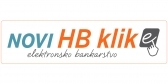 Dear clients,
We are pleased to inform you that a new redesigned electronic banking
NEW HB klik
https://hbklik.me/New/
will be available from 17
th
August.
The
NEW HB klik
provides new functionalities:
Log in to HB klik - option SMS OTP (log in as with mHb klik) or TAN list.
Home page - provides a quick view of the Most recent news from the bank, your Accounts, Templates, allows a Quick payment from your payment account to an account of your choice and check-up of Future payments. You can see balances on your accounts on Home page if you click on Show balance, which is found above your accounts, and you can have transactions by accounts displayed if you click on View transactions, which is found at the same level as your account number.
Money transfer from foreign currency account to a client's account in domestic system of payment transactions.
Option Instalment buying - here you can see every instalment buying (outstanding and paid), and individual transactions by every instalment buying.
Option Card turnover - here you can see all transactions for an individual payment card (Visa/MasteCard).
Option Account ledger - here you can see all transactions on your account, and convert the data into PDF or XLS.
Option Invoices – here you can see all of your payment invoices and convert them into PDF (this applies to services that a client uses in the bank as well to monthly fees).
· And many additional and practical options ...
Both versions of HB klik will be active
at the same time during the first month, and a client can choose which version to log in to (old version
https://hbklik.me/
or new version
https://hbklik.me/New/
).