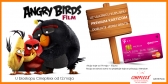 Film lovers among our Premium card holders may take advantage of the special offer made under our Premium programe starting this weekend.

Use your Premium card to buy a ticket for ANGRY BIRDS on in Cineplexx, and you'll get one free.

The offer is valid from 14 May to 19 June and applies to weekend film shows only.