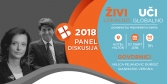 Hipotekarna bank, in collaboration with Honorary Consulate of Montenegro in Milan (Italy), will organize an educational event for students and post graduates- a panel discussion ''Live locally, learn globally'', which will take place on 7th of March in Hilton hotel at 11.00 a.m.
Introductory speech will be given by Mrs Dolly Predović, an Honorary Consul of Montenegro in Milan and former Corporate finance professor at Bocconi University.
Professor Gianmario Verona, Rector of Bocconi University from Milan, and Mrs Milica Pejanović-Djurišić, a full professor from University of Montenegro, will participate in panel discussion as well. Mr Radoje Cerović , psychologist and business consultant, will be moderating a discussion.
This event, which is primarily oriented to students and post-graduates, will emphasize on the future importance of education, indispensable knowledge and skills offered by Universities, ways of acquiring international experience or how to compensate it through local intercultural events. The event will save time for discussing interpretation of local events through global context as well, and ability to assess impact of global phenomena on professional and private life as indispensable skill of newly graduates in contemporary world.
Universities and local communities, inside their geographical areas, can contribute a lot to development of intercultural learning and global events, which will be another topic during the panel discussion.
We herewith invite students and post-graduates, and all interested individuals to enroll for this panel discussion via Hipotekarna bank web site www.hb.co.me
until 3rd of March
, due to limited places. Participation to event is free of charge.