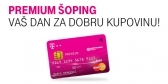 MEDIA RELEASE
SUMMER DISCOUNTS PREMIUM PREMIERE
Hipotekarna Bank and Crnogorski Telekom prepared a special offer for PREMIUM card holders. Extraordinary purchase terms are now offered by 140 Premium Programme partners in Podgorica on 17 June, 09-23.00. At the end of the day, starting at 22.30, Capital Plaza is organizing an open concert of Adrian&bend Adamija and DJ Cule.
In addition to the summer discounts premiere including discounts on top of existing ones, whoever decides to do some shopping in Podgorica by their Premium Card will be given special surprises.
Users of PREMIUM cards have the mobile Premium application at their disposal. It can be downloaded to google play and app store and will tell you where in town you can enjoy additional benefits. One can easily become a holder of a Premium card. One should apply at T-Centre, a Hipotekarna Bank branch office or via the mobile application. Any user of a Telekom service or a holder of Hipotekarna Bank account may get a Premium Card (one need not be receiving their salary via a Hipotekarna Bank account).
FOR MORE INFO CLICK HERE:
http://www.premiumprogram.me