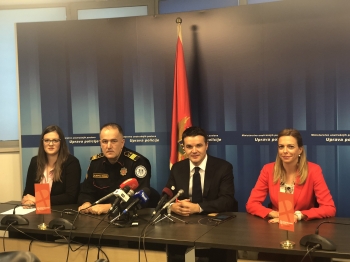 Hipotekarna Bank and Mastercard have equipped 60 traffic police vehicles and 10 border crossings with POS terminals, for more efficient payment of traffic violation fines. This project was implemented in cooperation with the Ministry of Interior of Montenegro.
This will allow drivers who commit a traffic violation to pay the envisaged fine using any card issued by a domestic or international bank, on the spot where the violation was committed. The POS terminals support both standard and contactless payment.
Montenegrin citizens and tourists will thus be able to save time and money and fulfil their obligation in the most efficient and easiest way, and the Ministry of Interior shall significantly improve and facilitate the payment of such fines.


Hipotekarna Bank Executive Director for Retail and Advanced Sales Channels, Nikola Špadijer, said that it is the desire of everyone in Hipotekarna Bank that all drivers respect traffic regulations and take care of their safety and the safety of other participants in traffic and that they wish that these POS terminals are used as rarely as possible. "However, Hipotekarna Bank once again shows that it is always ready to meet the demands of its clients with innovative services. We cannot have a decisive effect on traffic culture, but we can make payment easier for everybody, providing a way to do it safely and simply on the spot, thus saving both time and money", Špadijer stated.


Jelena Ristić, Marketing Director for Serbia, Montenegro and Bosnia and Herzegovina at Mastercard underlined: "Montenegrins recognise cards as a natural partner in their shopping experience in the usual locations such as supermarkets, cinemas or restaurants. However, it is important to bear in mind that people also pay taxes, duties and fines, meaning that they need an option for electronic payments in less usual locations. Such is the case with traffic fines – nobody likes paying them, but when a violation does occur, allowing the driver to pay the fine using the standard or contactless method with a card in their pocket, will make this process more practical and eliminate the need to look for ATMs and wait in lines. Meeting realistic financial needs of consumers is what we focus on and we are proud that Mastercard has been recognised as the partner who will bring Montenegro one step closer to a genuine cashless society."


Head of the Department for Road Traffic Safety in the Ministry of Interior, Dragan Klikovac, reflected on the importance of such a service for the Ministry and for the citizens.
He stated: "The installation of POS terminals on border crossings and in traffic police patrol vehicles will efficiently solve one of the most common objections of foreign tourists who spent time in Montenegro, regarding the actions of Police Directorate officers, which is the inability to pay fines on the spot."


Namely, this will mostly allow persons with no permanent residence in Montenegro, when they commit a traffic violation, to pay for the fine after the issued misdemeanour report via a POS terminal, without having to go to the post office or bank. In the past, these persons were obliged to go to the nearest town. It was problematic when violations occurred outside working hours or on weekends and state holidays, when post offices and banks are normally closed. This meant that these persons were subject to additional delays and expenses.


Klikovac particularly stressed that the installation of POS terminals, in addition to persons who have no permanent residence in Montenegro, will also allow the citizens of Montenegro who committed traffic violations to pay the fines on the spot, without going to a post office or bank. Payments to traffic patrols on the spot will only be possible via POS terminals, and not with cash.


Klikovac also reflected on the relief the realisation of this project shall bring to the operation of traffic police. "The job of traffic officers, with the installation of POS terminals, will be much easier, since they will not waste time waiting for persons without residence in Montenegro, who committed violations, to bring proof on the payment of the fine so that they can continue their journey through Montenegro."