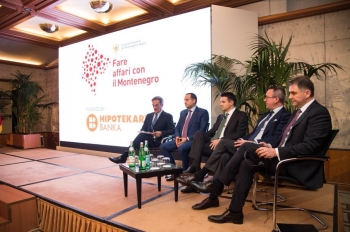 More than 250 of the most important representatives of Italian economy and public sphere attended today the promotion of the book by our honorary consul to Milan, Dolly Predović, and the panel discussion "Doing Business with Montenegro", organised by Hipotekarna Bank in Milan, whose guest of honour was the President of Montenegro, Milo Đukanović.
The President of Montenegro, Milo Đukanović, stated that Montenegro showed determination in the implementation of the vision of its European path:
"There is no doubt today that Montenegro is unstoppably striving towards the European system of values. Regardless of the confusions in European politics, particularly regarding the enlargement policy, we are moving firmly on our European path. We want a country based on market economy and the rule of law, and would be grateful if Europe retained its original vision. There are no doubts, nor should there be, about the Balkan countries. The Balkans have missed so many opportunities, that there are no alternatives left. The integration of the Balkans is synonymous to its stability" – Đukanović said.


Dolly Predović, honorary consul of Montenegro to Milan, introduced the attendees with the book "Fare affari con il Montenegro", and also with the natural, economic and cultural potentials of Montenegro: " This is a guidebook of sorts, which collects data and information necessary for those who wish to invest in Montenegro, as well as stories by entrepreneurs and politicians, given as interviews at the end of the book, which provide first-hand information on the experiences of people who did business with Montenegro and about those who create political systems in order to make the economy even more dynamic" – Predović said.


The euro, as the official currency, additionally strengthened the confidence of investors and their interest in investing in a country which is constantly developing and has great ambitions about the future.
Montenegro is characterised by a remarkably strong and stable banking system. Hipotekarna Bank is the only bank whose main shareholders are Italians. Based on the example of Hipotekarna Bank, which increased its assets from 40 to 520 million euros over the previous ten years, it is clear that working in Montenegro and doing business with Montenegro is not only possible but also profitable", stated Nikola Špadijer, Executive Director of Hipotekarna Bank for Retail and Vice President of Confindustria Montenegro.


Petar Ivanović, Member of Parliament of Montenegro, reiterated in his extremely interesting presentation, that Montenegro is a stable investment destination:
"Montenegro is a full-fledged member of NATO, with the highest inflow of foreign direct investments and growth rates in the region. It is easy to start a business, and the level of economic freedoms is growing. Industry, energy, services, tourism and agriculture are the areas in which I recommend you to invest", said Ivanović.


Erich Kossuta, President of Confindustria Montenegro, related his positive experiences as an investor and introduced the attendees with all incentives which exist for those who wish to invest in Montenegro. The President of Arton Capital, Armand Arton, also took part in the panel discussion, and pointed out all advantages of Montenegro as an attractive investment destination.


The Italian audience had the opportunity to also hear about the experiences of investors and to learn about the three most important projects in Montenegro, which were presented by Stevan Milić – PortoNovi General Maganer, Matthew Morley – Porto Montenegro Brand Manager, and Miloš Jeknić – Luštica Bay Sales and Marketing Coordinator.
The event was attended by many public figures, including our Ambassador to Italy, Sanja Vlahović, Duška Jeknić, our EXPO Commissioner and Chargée d'Affaires in the Embassy of the United Arab Emirates, Dejan Savićević and Mirko Vučinić, Veljko Milonjić, Director-General for Economic and Cultural Diplomacy, Alan Rizzi, Secretary for International Relations of the Region of Lombardy, and the representatives of important Italian companies.