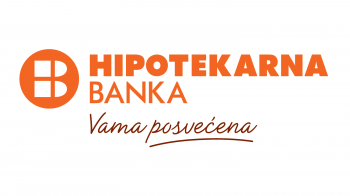 In the third quarter of this year, HIpotekarna Banka recorded a net profit of 7.048 million euros, which is 36 percent higher compared to the same period in 2018, when the profit amounted to 5.171 million euros.
Hipotekarna Banka's balance-sheet total at the end of September is 559.4 million euros, which is 10.3 higher compared to the beginning of the year.
The bank recorded business growth in all segments, once again confirming the stability and security of its business activities, and justifying the confidence of its clients.
Client deposits have increased by 10.7 percent since the beginning of the year, and now amount to 454 million euros.
During this year, Hipotekarna Banka managed to reduce the level of non-performing loans, which had a positive effect on the financial result and the reduction of bad loan indicators, which amount to 3.23 percent after days of delays, whereas in the third quarter last year this percentage was 3.82.
"In addition to the growth of all business indicators, in the third quarter we continued to expand our business network by opening a luxurious branch office in the Portonovi Resort in Kumbor, and by the end of the year we are expecting that a new branch office will open in Žabljak. We have also launched the first VISA Infinite card on the market, the most prestigious VISA debit card", says Esad Zaimović, CEO of HIpotekarna Banka.
Apart from the business network growing, the bank will continue to invest in new technologies, which means that clients can continue to expect new products that will facilitate the use of banking services.
Allow us to remind you that this year in Sarajevo Hipotekarna Banka received the EBRD award for the most active bank in Montenegro in the TFP programme, which makes this the third year in a row that the bank was recognised by the international banking institutions as a bank which is especially dedicated to the promotion of commerce in Montenegro and the region, and to the fostering of international business.