MEDIA RELEASE
Hipotekarna Bank awarded two scholarships, 10,000 euro each, for summer internship programmes in Milan, Italy, to Dijana Djokic, a student of the School of Economics, University of Montenegro, and Jelena Brajevic, a student of the Faculty for International Economy, Finances and Business, University of Donja Gorica.
Hipotekarna Bank, in collaboration with Career Paths, decided to grant two scholarships for summer internship in renowned companies in Milan. Scholarships intended for the period of two months and totalling 20 thousand euros have been granted to students Dijana Djokic, a student of School of Economics, University of Montenegro, and Jelena Brajevic, a student of the Faculty for International Economy, Finances and Business, University of Donja Gorica. All the students meeting the application requirements have shown outstanding knowledge but also motivation to continue expanding it through this unique internship opportunity abroad.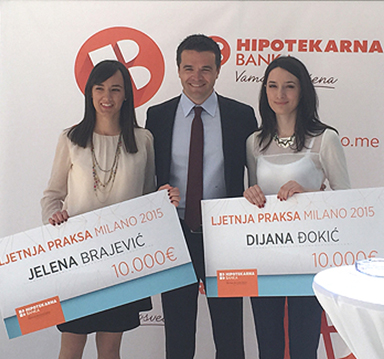 Dijana Djokić is a fourth year student of Podgorica School of Economics, Department of Finances and Banking, with the average grade of 10. She was awarded the title of the student of her generation by the University of Montenegro, and another title as the best student in her generation by the School of Economics in three consecutive years. In her motivation letter, Dijana says: "I believe this is an outstanding programme for young people like myself, people interested in different cultures, exchange of knowledge and experience. If I won this scholarship, I would get an opportunity to learn much about the Italian business culture. It would also be a chance for me to explore different work models and apply the knowledge obtained in my university in real life. I am convinced that I can apply the same skills that have proven successful in my educational and career endeavours and even develop them further thanks to this challenging new experience".
Jelena Brajevic is a fourth year student of the Faculty for International Economics, Finances and Business, Department of International Economy and Finances of the University of Donja Gorica. Jelena is among the top students of her generation. She has attended many training programmes so far and in 2011 she was proclaimed as one of the most active volunteers of NGO "ADP Zid". In her motivation letter, she says "This summer internship programme will be an excellent opportunity to learn about the latest developments in modern business and see how it works in successful European companies. The experience gained there will contribute to my further professional development as it will improve my competencies (language, skills and attitudes). " Jelena adds that "Given that Career Path company has a strong network of general directors and top managers from MIlan companies, I am sure that my expectations relating to knowledge and practice will be met fully."
In addition to the mentoring that is covered by this scholarship, the students will meet and work on an individual basis with an expert from their field of interest. The experts will be ready to help them identify their respective specific interests. In addition to the eight-week practice within the selected company, the students will have a chance to take part in many business events and learn more about the cultural and historic heritage of Milan and Lombardia region.
The scholarship is worth 8.200 euros per student. To make sure the students are free of any burden or other obligations during the two months, the Hipotekarna Bank is also covering the cost of the plane ticket and subsistence costs of 1.500 euros.
"Strategic investment in technology, continuous education and training of staff is one of the key factors that the success of the Hipotekarna Bank rests on. This programme is unique, internship will be tailored to the students and will follow the model "Learning by Doing". Depending on the profile of the students selected, internship will be organized in one of the most renowned Italian or international companies", said Nikola Spadijer, director of the Retail Sector, and expressed his hopes that "internship in Milan will help the selected students choose their future path of professional development and apply their knowledge".
Eligible for the scholarship are all full-time students, Montenegro nationals from all three universities, from the departments of economics, study programmes relating to finances and banking. Other eligibility requirements include the age limit of 23, the average grade over 8.5, and good competence in English.