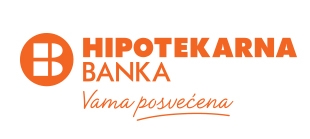 Hipotekarna Banka AD Podgorica has successfully issued the third series of subordinated bonds, HBO3, in the amount of 8 million euros.
It is issued 8,000 bonds at individual face value of 1,000 euros.
The previous two issues of subordinated bonds of the Hipotekarna Banka AD Podgorica, HBO1 (maturing in December 2021) and HBO2 (maturing in July 2023), are among the most liquid securities in the domestic capital market.

The third issue of bonds was performed through a private placement to known buyers. Bonds bear interest rate of 5 per cent per annum and mature in January 2026.

This activity will provide new capital base for further growth of the Bank, which achieved a record results in 2019.

It is worth mentioning that this series of bonds will be listed in the secondary market of Montenegro Stock Exchange AD Podgorica, and that there has already been a demand for these bonds in the secondary market.