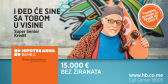 MEDIA RELEASE
Pensioner loans quick and easy
Up to 7,000 euros with no guarantor or health file requirement, with insurance policy free of charge
Up to €15,000 for up to 10 years of repayment period, with no guarantor requirement, at 8.00% interest rate
Hipotekarna Bank has expanded its offer to include a new pensioner loan. Hipotekarna Bank offers pensioners consumer loans and/or loans to refinance their debt with other banks. The maximum loan amount granted on this basis is 15,000 euros.
The repayment period for loans up to €7,000 is 84 months and for loans up to €15,000 it is up to 120 months.
For loans of up to €7,000, the interest rate is 0.88% a month, and for loans up to €15,000, it is 8% annually.
Security requested includes insurance policy (free of charge for up to €7,000), pension attachment order, and a bond.
The loan is granted to the clients who are now receiving their pensions or will have their pensions redirected through a Hipotekarna Bank account, with the possibility of debitting up to one half of their pensions.
Eligibility age limit is 75 years on the date the loan repayment period has expired.
For more information click here...
To view the TV spot click here...