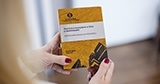 Hipotekarna Bank receives the award as the "Most active bank in Montenegro in 2016" within the European Bank for Reconstruction and Development Trade Facilitation Programme. Hipotekarna Bank joined the EBRD Trade Facilitation Agreement in November 2014 with a trade financial line of 3 million euro for foreign trade finance in support of development and diversification of the private sector.
"We are proud to see our work is recognized by the European Bank for Reconstruction and Development. This award is a proof we are heading in the right direction to actively contribute to the economic growth while the programme itself enhances our capacity to secure trade financing and give businessmen the kind of support they need in order to step up their import-export activities. The cooperation with EBRD made it possible for us to fund a broader scope of activities in Montenegro, which is extremely important given the current needs of the SME sector as they are key to sustainable growth and creation of new jobs", said Ana Golubovic, Director of the Corporate Relations Sector at the award ceremony.
Holger Muent, EBRD Western Balkans Director said on this occassion: "We congratulate to Hipotekarna Bank for the award. The Bank is an important EBRD partner in the region. This award emphasizes the committment of Hipotekarna Bank to facilitate international and intra-reginal trade and cross-border economic integration as one of EBRD's strategic priorities for the Western Balkans.
The EBRD's Trade Facilitation Programme was launched back in 1999 and now includes 96 partner banks in 26 countries that EBRD invests in with a view to promoting foreign trade from and between countries that EBRD makes investment in. Through this programme, EBRD gives guarantees to international banks because of the political and commercial risk related to international trade transactions made by these banks in the countries that they work with.