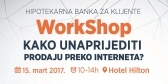 Workshop for Hipotekarna Bank clients "How to boost online sales?"
Ivan Bildi and Aleksandar Marić on online business
To help its clients develop their online business, Hipotekarna Bank will organize a workshop on 15 March on "How to boost online sales?"
Renowned experts in this field, Ivan Bildi (Likes&Cookies agency) and Aleksandar Maric from Smartweb, will inform Hiptekarna Bank corporate clients about current e-commerce trends and help them improve their sales via their online shop.
At the workshop, Hipotekarna Bank representatives will inform clients about HB e-commerce service which enables them to sell their goods and services over the internet by accepting Visa International and MasterCard payment cards at their online points of sale.
By activating this service, clients will be able to sell goods and services at their online points of sale to their buyers across the world, with no time limitations and with secure payment methods.
All interested clients may register for the workshop with their personal bankers.
The Bank will continue sharing knowledge with its clients on modern trends and new business modalities.