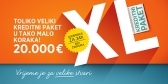 PRESS RELEASE
Up to EUR 20,000 without guarantors requirements
Loan is granted within 24 hours
installment purchases with a credit limit FREE OF CHARGE or interest free installment purchases

Hipotekarna Bank has refreshed Montenegro's bank market by introducing a new product called "XL Loan Package". The product offers a series of benefits for whoever needs a loan.
"XL Loan Package" allows loans of up to EUR 20,000 without guarantors, which makes it one of the biggest loan offers without guarantor requirements in the Montenegrin market. This XL package is composed of cash loans, account limitations, and a host of other privileges, free of charge, with the client having a range of options to chose from and create his own ideal package that best fits his needs.
It is important to note that the credit package installment may not exceed a half of one's monthly pay. Everyone opting for this new product will receive a Premium Card installment purchase limit free of charge, with no fees or interest added, as well as a possibility to use a credit limit for installment purchases made with Relax Card across the world for a fixed fee.
The loan application procedure is simple, with applications decided within 24 hours.
For more information click HERE.