Credit card for succesful business operations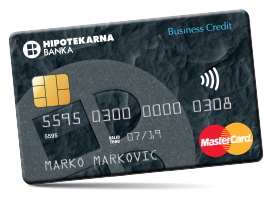 With your business credit card you will have no worries about paying for your business spending, particularly when abroad on business, and will be free of any risks associated with carrying cash on you. You will be able to make fast and secure payments for your business spending in the country and abroad. In addition, depending on the credit rating of your company, you can count on higher limits than those on your Mastercard Credit Electron business payment card.
Mastercard Credit Credit cards issued by our Bank are equipped by chip technology which gives maximum security to your electronic payment and prevents any abuse.
Who it is intended for?
Mastercard Credit Credit card is open for applications by all legal entities having a current account with Hipotekarna Bank.
A legal entity - cardholder - may request to be issued one or more cards, depending on the number of potential cardholders.
Key benefits
electronic payment in the country and abroad without any commission or fees
possibility of a higher limit than that of Electron Cards
possibility to use the card for online purchases
possibility to repay your card debt at a dynamics which suits you best
How it works?
Mastercard Credit Credit is a revolving credit card which allows you to spend your funds up to the limit set for each individual card, while the expenditure made can be paid on a monthly basis, at a rate which suits you (the minimum amount is 5% of the overall card debt increased by the calculated interest). You may choose to pay a bigger amount than the minimum monthly liability or, if possible, settle the entire debt.
In the event of a card theft or abuse, the funds in the main account of the legal entity may not be abused since the card is not directly linked to it.
The authorised person assigns each holder of Mastercard Credit Credit card a daily spending limit per card as well as a credit limit within the overall limit approved to the legal entity. The total limit for a legal entity is set by the Bank on the basis of the legal entity's credit capacity - cardholder.
The card can be used in the network of POS terminals and ATMs in the country and abroad, at all points of sale carrying Mastercard logo, i.e. in a total of 24 million POS and 850 thousand ATMs around the world.
The card can also be used for online purchases. We recommend that you limit your transactions to websites using CVV standard for confirmation of cardholder identity.
If your card is lost/stolen in the country or abroad, please report it immediately at +382 19905 (available 24/7/365) or at our office nearest to you.
Applicable fees
| | |
| --- | --- |
| Issuance of card | EUR 5.00 |
| Monthly membership fee | EUR 5.00 |
| Payment at POS terminals | no commission |
| Transactions at Hipotekarna Bank ATMs | 2.00 % (min. EUR 2.50) |
| Transactions at ATMs of other banks | 3,50 % (min. EUR 5) |
| Regular montly interest rate | 1.30% |
| Default montly interest rate | 1.95% |
Documents required for card issuance
To be issued a Mastercard Credit Electron card, please submit the following documents at any of our offices:
application for Mastercard Credit Credit card
photocopy of an identity document (ID or passport) for every cardholder
form Cardholder's personal data filled out
The Application must be with the hand and seal of the signing authority of the enterprise (owner, executive director or another person with signing authority).
Up to four secondary holders of Mastercard Credit Credit card may be added under one application. Where the enterprise - primary cardholder - needs more than four cards, an additional application must be filled out. Every authorised cardholder must fill out a personal data form to be submitted together with the signed Application.
In addition to the Application and card users' personal documents, the following documents must also be submitted (if they are not already filed with the Bank arhives):
certificate of registration of the legal entity, as well as the certificate renewing the registration (photocopy)
notification of industry classification – excerpt from the Register (photocopy)
card of deposited signatures (photocopy)
last interim statement of accounts (photocopy)
authorised payment order with the business letterhead of the legal entity by which it authorises Hipotekarna Bank to activate such an order
bill of exchange
In the event that the enterprise wishes to pay 100% of the deposit for the credit limit of Mastercard Busness Credit payment card, the following must be submitted:
bill of exchange
authorised payment order with the business letterhead of the legal entity by which it authorises Hipotekarna Bank to activate such an order if necessary
The deposit is subject to a passive interest rate in accordance with the applicable
Decision on Fee Tariffs
.